March 29th, 2008 | Written by Buff Blogwell | 2 Comments
WrestleMania has been called the Super Bowl of wrestling. And there are definitely similarities. For example, just like with WrestleMania, there is usually about a month's worth of hype for the Super Bowl and, this year aside, compared to all the hype, the Super Bowl is usually a boring, anticlimactic mess just like WrestleMania. Also, in the Super Bowl, just like in WrestleMania, there are usually about 15 minutes of the event that wind up being worth watching. Another similarity is that the Super Bowl airs on broadcast television for free, much like WrestleMania airs for free on WWE television for the following several weeks after they have convinced several thousand suckers to pay $60 for it.
However the biggest difference between the two is that the degenerate fans of football will bet on anything from the final score of the Super Bowl, to the number of punts, to the coin toss. The degenerate fans of wrestling don't have anything to bet on since the outcomes are predetermined. But wouldn't it be nice if we could bet on all the dumb stuff that will happen? Here is the betting line for WrestleMania XXIV.

"What a devastating sidewalk slam!" — Michael Cole
MISCELLANEOUS
Over/under on the percentage of successful attempts by Mike Adamle to pronounce the names of wrestlers he has never heard of until bell time: 18%
Over/under on the number of visible eyebags on Mike Adamle despite the best efforts of a highly paid WWE makeup staff: 3.5
Chances that the worst match ("BunnyMania" women's tag match) will last longer than the best match ("Money in the Bank"): 50%
Chances that the WWE will produce some dumbass skit featuring 1980s wrestlers, identical to the 150 other skits they have produced in the past five years: 91%
Over/under on the percentage of moves Michael Cole incorrectly calls a sidewalk slam: 84.5%
Over/under on the total number of minutes of the show spent watching restholds: 47
Over under on the number of minutes taken up by replaying things we've already seen on television: 37 Chances that Aretha Franklin will sneak into the backstage area by claiming to be Big Daddy V, do a heel turn, attack John Legend, and take his place singing America the Beautiful: 1% (but we can hope)


Above: America the Not-So-Beautiful.
HALL OF FAME INDUCTION
Over/under on how many inappropriate chants happen during the Hall of Fame ceremony: 15
Chances that Mae Young will go topless while accepting her HOF induction: 89%
Chances that anyone will mention, during Peter Maivia and Rocky Johnson's induction, how offensive their gimmicks were: 0.00000004%
Chances of someone saying "WWF" during the show: 63%
BUNNYMANIA
Over/under on the total number of wrestling moves executed correctly in the women's match, by anyone other than Beth Phoenix: 1.5
Chances that the most entertaining thing about the women's match is:
Santino Marella getting on the mic: 75%
Nipple slip or butt-crack exposure: 25%
Anything wrestling-related: 0%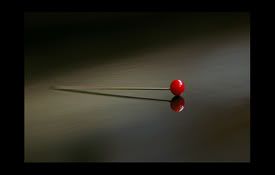 Above: Pin dropping (can be heard
during WWE women's matches).
Chances that Snoop Dogg will say something in an interview that indicates he hasn't watched any wrestling since WrestleMania IV: 83%
Chances of Snoop Dogg specifically saying "WWF": 97.2%
Chances that the crowd reaction at any given time during the actual match is greater than the reaction during the women's entrances: 8%
Chances of a fart being heard from the audience because they are so silent during this match: 47%
Chances of sudden torrential downpour in the open-air Orange Citrus Bowl improving this match: 97%

Fig. 1: Unstoppable force.
24-MAN BATTLE ROYALE
Over/under on the number of times that Snitsky, even though he is flabby, out of shape, only 2 inches or so taller than the average WWE wrestler, and has lost every televised match he has been involved in for 6 years, will be portrayed as an unstoppable monster: 14
Over/under on the length of time The Great Khali is in the ring before sustaining a continuous "BOO" becomes a vocal impossibility for the crowd: 4:27
Over/under on the length of time the Great Khali will remain in the match before awkwardly stepping over the top rope and pretending to be eliminated: 15:29 (11 minutes past the continuous booing threshhold)
Chances that Hacksaw Jim Duggan will get a better fan reaction than anyone else in the match: 81%

UMAGA vs. BATISTA
Over/under on the number of times that any of the announcers assert their balls in the "my brand is better than your brand" debate, even though all three brands appear on each other's shows constantly: 19.5
Chances that Umaga stares at a piece of simple electronic equipment in wonderment and awe, as if it is a god that fell to earth, even though he wrestles in arenas full of electrical equipment 250 days a year: 57%
Chances that Umaga's incoherent rambling in Samoan is more understandable than Batista's pre-match promo: 92%
Over/under on the number of chair-shots or other vicious blows to the head which Umaga will no-sell because he is supposed to be a Samoan with a stereotypically rock hard head: 4
Over/under on the number of simple fists to the head Umaga will sell as legit, and stagger, even though he seemingly cannot be hurt in the head by a chair: 34
Over/under on the number of times the announcers refer to Umaga as "unstoppable" or a similar adjective, even though, like Snitsky, he never wins a match except against 150 lb. jobbers: 11
Over/under on the increase in popcorn sales during Batista's offensive sequences: 35%
BELFAST BRAWL
Chances that JBL's intro/ring entrance will last longer than the time elapsed in the match before he needs a resthold break: 74%
Chances of anyone expressing any interest in who Vince McMahon's real bastard son is, now that Finley is Hornswoggle's father: 4%
ECW CHAMPIONSHIP
Chances that one of the two guys fighting over the ECW title will be from ECW: 12%
Chances that WWE will update their website to include "ECW Champion" under Chavo's "list of career highlights" before he loses the belt: 2%
MAYWEATHER vs. BIG SHOW
Chances that Big Show just says "fuck it" and legitimately snaps Mayweather in half: 6%
Chances that Big Show plays it by the book, but still clumsily gives Mayweather a legitimate injury by accident: 64%
Over/under on the number of people watching who are hoping one of the above happens: 257,951
Chances that Mayweather gets through a complete sentence without mumbling, stuttering, or some other miscue in his pre-match promo: 0.004%
Chances of Mayweather saying "WWF": 28%
Chances of the winner of the Money in the Bank match using his title shot to challenge Mayweather for his boxing title after he is laying in a mangled heap in the ring: 0% (and yet, way more entertaining than whatever really happens)
RIC FLAIR vs. SHAWN MICHAELS
Chances that Vince McMahon can restrain himself from appearing in the climax of this match, and imprinting himself on Ric Flair's moment of glory into retirement: 1%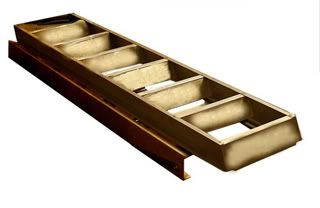 Above: More mobile than MVP.
MONEY IN THE BANK
Chances that MVP ever actually gets on the ladder: 40%
Chances that MVP takes a respectable bump involving the ladder: 21%
Chances that MVP tries to put the ladder in a chinlock: 91%
Chances that someone will use the money in the bank privileges to challenge for:
The RAW title: 60%
The Smackdown title: 31%
The women's championship: 5%
One of the fake belts that are sold at WWE concession stands: 2%

The belt holding Jerry Lawler's pants up: 0.999995%
The ECW title: .000005%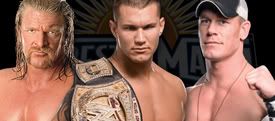 Who will be the lesser of three boredoms?
RANDY ORTON vs. JOHN CENA vs. HHH
Chances that JR or someone else will say that this match is "unprecedented" or "historic" — even though we have been seeing thousands of different boring permutations of these three guys fighting each other on RAW for what seems like about 3½ years now: 99.7%
Over/under on the number of people in the crowd and home audience rooting for the guy they dislike the least: 194,000
Chances that at some point HHH and Randy Orton will both have to bring the action to a screeching halt, lie still and pretend to be incapacitated for a ridiculously long amount of time, after a simple move like a side suplex, so that John Cena can perform a five knuckle shuffle: 83%
Chances that John Cena does a "military salute" with the wrong hand again: 50%
Chances that HHH will hit someone with a sledgehammer in a completely non-threatening way like running it into their gut, or use the less-damaging stick end of it: 71%
Chances that HHH will actually use a sledgehammer the way someone would use it if it was a real fight, by swinging it like a baseball bat: 0%
Chances that anyone will point out that using a sledgehammer isn't as badass as it sounds, if you're going to use it in the safest possible way for your opponent: 0%
Chances that there will be another massive wave of steroid suspensions in the WWE between now and bell time, and they will have to replace the main eventers with The Miz, Sho Funaki, and Jimmy Wang Yang: 9%

Got any hot tips to add to the betting line for WrestleMania? Stick 'em in the comments and I will post any good ones. (Don't worry if it's after WrestleMania is over. This doesn't have to make any sense, it's about the WWE!!)