March 13th, 2008 | Written by Blogger Brody | 9 Comments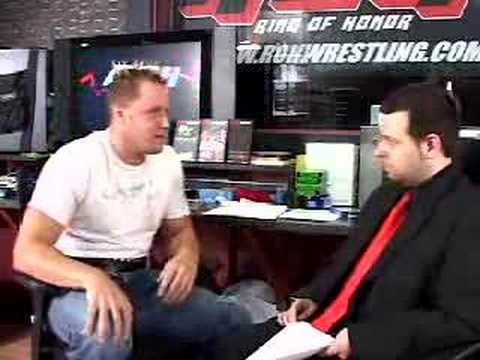 ROH is so fucking awesome that their weekly 10 minute Youtube clips are more entertaining than 5 hours of WWE "sports-entertainment." Their latest video wire is especially amazing, as recently turned heel, and ROH champion, Nigel McGuinness has a sit-down interview with ROH commentator, Dave Prazak (who he keeps calling Prozak). During the interview, Nigel goes off on all the marks in ROH who give him shit, and basically pwns the fuck out of them. We here at DoubleAxHandle give Nigel our seal of approval.
The only thing I disagree with, is during his speech he talks about how he bets people doubted American Dragon when he first won the title and thought he was boring, but won them over. Well, Dragon didn't win me over. He's still boring as hell to me!
And, if you're reading this Nigel, whenever you want to have some tea and crumpets, you are more than welcome at the DoubleAxHandle headquaters
Buff Blogwell adds:  Check out 7:55, he called American Dragon an al-BEEN-o!!  That's got to be the word of the week at dXh.