December 22nd, 2007 | Written by Buff Blogwell | 8 Comments
This speaks for itself. From Vince McMahon's World Softcore Porn For Closeted Gay Guys Federation Bodybuilding Federation.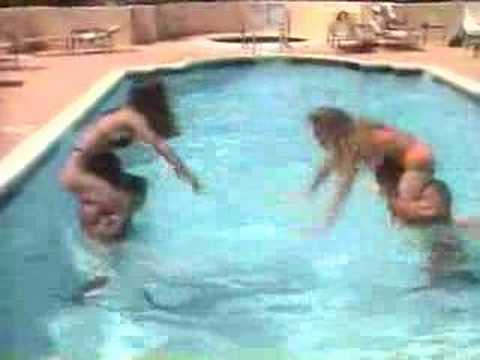 Above: "You're going down." "Let's do it!!"
Phew. I bet that sold a lot of ICO-PRO.Some thoughts:
1) Lord Alfred Hayes called the WBF?! I didn't know that. I mean I always thought he was a bit of a pouf — maybe he wanted to be around masculine men with muscles. Which is fine, I'm no homophobe. But the funny thing is, he is actually the most manly element this clip. "Look at those smashing maidens!!" Nice try Al, but you're gonna need a top-of-the-line tow truck to pull this one out of TEH GAY.
2) If this is not a man-on-man precursor to the current diva division, then I don't know what is. In fact the entire WBF was basically the diva division with penises.
3) I saw the ending, where the two guys dump the girls into the pool and walk off together, coming a mile away. Not exactly a huge swerve there.
UPDATE:  OK, I figured out what needs to happen at the end of that sketch.  The pool fight ends, the guys walk away together, and backstage, they run into…