December 21st, 2007 | Written by Buff Blogwell | No Comments
I'm usually pretty good at meaningless wrestling trivia. For example many people did not know that the Gobbledygooker won the IC title at a house show in early 1991, and lost it back on the next show, but that this title change was removed from the record books before it ever made it to Wrestling Challenge.
However I freely admit I had no clue as to this piece of what is apparently common knowledge: the scary Xanta Klaus, which I remember from my misspent youth, was played by former ECW jobber and current WW-ECW jobber Balls Mahoney. I present this video in case any other n00bs out there were in the dark about this well-known fact like I was.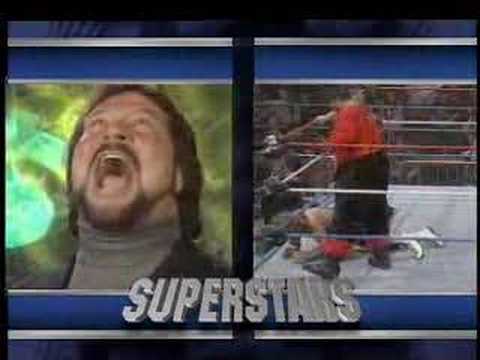 My favorite parts of this video are:
1) How impressed Vince is with himself on coming up with an Evil Santa Claus. He is basically saying "GET IT?!" throughout the entire clip.
RING ANNOUNCER: "From the South Pole…"

VINCE: "The SOUTH Pole."
2) How stupid the WWF's tone was in general, leaving aside the wrestling Santa Claus gimmick for a second.
VINCE: "This is not the real Santa Claus, I can assure you… he isn't even from the North Pole."
Right… because the REAL Santa Claus is… he's from… uh… yeah.
I know I tend to go off on how stupid the WWE is now, and it is very stupid. And the angles often make no sense. And it is aimed at a really stupid demographic. But at least a lot of it is done with a wink and a nod — it was dragged to that point, kicking and screaming, by ECW and by internet smarkdom. When Vince steps into a limo and it explodes, at this point, they don't really expect anyone to believe he's really dead (if a few mouthbreathers convince themselves and post about it in YouTube comments, so much the better).
But here, they are proudly aiming the storylines at a 3-year old audience. And missing low.
3) JR, bless his heart, trying desperately to bring some kind of respectability to the horror show that is unfolding in front of him. He chooses the approach that "Xanta Klaus" and Ted DiBiase are sadistic and this is a stunt designed to hurt children's feelings and ruin the magic of Christmas for them (probably the only sane approach under the circumstances, barring a rant about how badly this sucks and how I can't continue to call this mess and look myself in the mirror, cockslapping Vince, throwing the headset down on the floor and taking a giant, Oklahoma, BBQ-flavored dump on it).
Meanwhile Vince has a conversation with himself, debating whether or not this is a fake Santa Claus, or whether the REAL Santa Claus (from the NORTH Pole) has actually sold out to the Million Dollar Man.