March 2nd, 2008 | Written by Blogger Brody | 4 Comments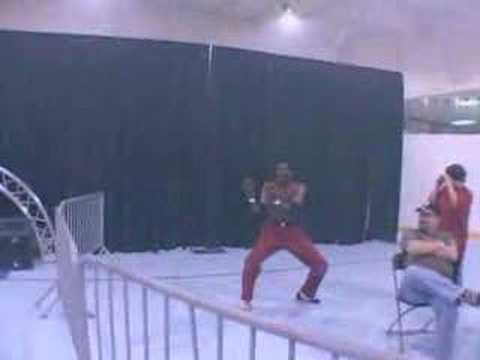 Last weekend, Blogger T and I had the chance to attend ROH's Sixth Anniversary show at the Manhattan Center. I have a large built-up rant that I will post soon, but first I thought I must let all the wrestling blogeratti out there know, that the man who impressed us the most was HUMAN TORNADO.
Sure, this soul brotha was on the short-lived-but-rather-awesome MTV series, Wrestling Society X, but I don't really feel I got the full grasp of his awesomeness until seeing him live and in technicolor, daddy! Its very rare we dish out compliments here at DoubleAxHandle, but this dude is absolutely money. I'm sure in no time, WWE will snatch him up and neuter him just like they did with countless others (RVD, Paul London, etc).
Both clips furnished by the Human Tornado's Myspace page. If he's on an indy car in your town, check this foo' out, he may be worth the price of admission.